BETH SHALOM TEMPLE
Santurce, Puerto Rico
The Temple bought a commercial structure on an ordinary street corner in Santurce, Puerto Rico for conversion to a Sanctuary.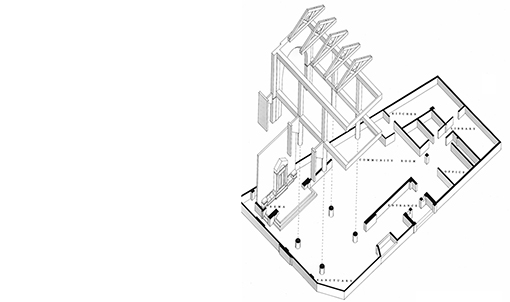 Loading image. Please wait







The neighborhood, developed in the 1920's, is a mixture of buildings of several floors of all sorts of types and styles. It was seen that the temple could be an anchor to its disparate streetscape as much in its institutional stability as in its formal architectural presence.
Photo by Stephen & Gil Amiaga
Radical changes were made in the appearance of the building exterior. A notch was carved out of the street wall and filled with glass blocks to emphasize the volume of the sanctuary. The gable end was created to echo the interior roof trusses. The entrance was given an arch form which is both solemn in its historical context and inviting in its amplitude.
Photo by Stephen & Gil Amiaga
The exterior was intentionally kept simple in contrast to the major explosion of space that was carried out inside. What was a bar and restaurant on the ground floor was transformed into a double story sanctuary. Both the second floor and roof slabs were eliminated, allowing the space to penetrate upward to a new wooden truss.
Photo by Stephen & Gil Amiaga
The spatial design was purposefully conservative to counteract any negative connotation that might be implied from the structure having had such a secular origin. The wood ceiling, arch over the Bema, The furniture specially designed for the space, are consistent in their dignity. The stained glass doors of the ark and the exterior windows reinforce the interior image.
Photo by Stephen & Gil Amiaga
The Temple makes a quiet but solid statement in its urban context while giving the congregation a rich interior experience.
Photo by Stephen & Gil Amiaga